Starco Norway needed a new online store in connection with changes in the company and the replacement of the logistics system. The online store was to be a sales and ordering tool for professional customers in the tyre industry, focusing on ease of use and efficiency.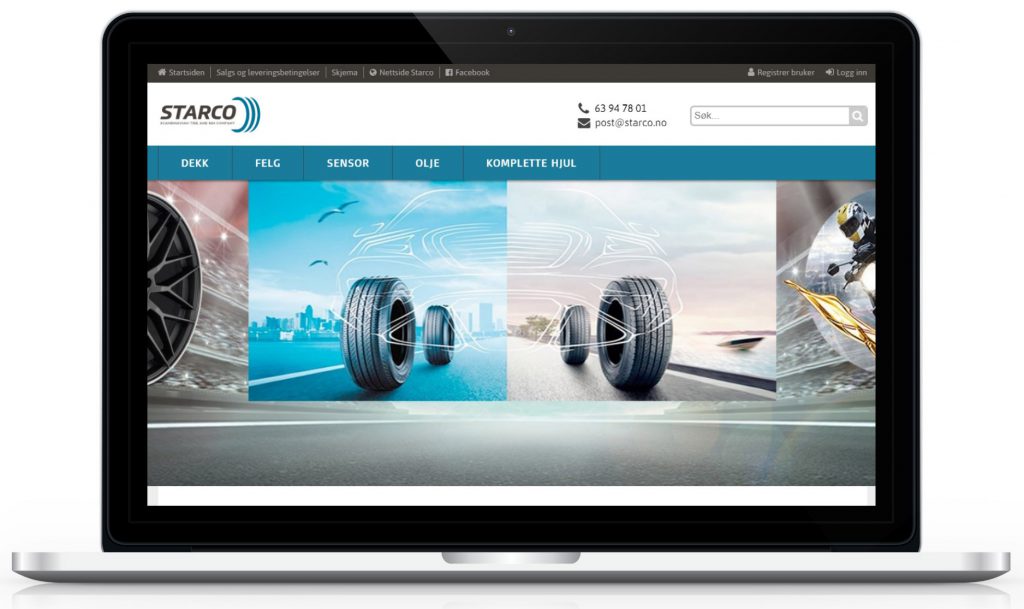 The chose eSHOP - because of both the flexibility and strength of the integration platform. eSHOP - both because of the flexibility and the strength of the integration platform. Due to the merger of Starco Team, the need for the online store has grown further and a new solution bizClick logistics  has been implemented. Today, 80% of online store orders are pre-approved by Integration Partner, and are printed directly on one of 7 stocks using an algorithm. This allows Starco to ship goods to the ideal warehouse for the customer. This has saved Starco a lot of time. In total, the online store delivered 50,000 orders for a total order amount of 165 million in 2018.
The solution
Online store Business 2 Business
Special functionality for tires and rims
Tightly integrated with SAP Business One
Integration with supplier inventory
The inventory count module for BizClick Logistics
About the webshop

Short deadlines were provided from us, and at times unclear needs and a district cooperation with 3 other actors helped to complicate the process. Integration Partner took the challenge and came up with a good solution within the expected timeframe. They have solved the tasks well and delivered efficiently according to our wishes. After two weeks of operation, we have almost doubled the share of orders over the net! This has contributed to the efficiency of order handling, while also providing our customers with a much better tool for shopping our goods. We chose Integration Partner to deliver this because of an already good relationship and experience in delivering it.

About bizClick

We have 7 warehouses totaling almost 25,000 square meters. In stock counting we had 170,000 tires, 45,000 rims and 130,000 liters of oil in stock. This is divided into approximately 10,000 part no. We needed a structured and efficient system to plan and execute the inventory count. We found this in BizClick Logistics. We were able to put inventory in the system and create count lists efficiently. The counting itself went effectively on tablets, minimizing post-work. In addition, we could run continuous nonconformity checks. Upon completion of the count, the auditor did not find a single nonconformity. We have never experienced this before!

Eirik Johansen, CFO, Starco Norge AS
About Starco Norge AS
In 2015, Auto Grip AS and InterContact AS merged and became Starco Norge AS. In 2017, three Starco Team partners were merged into Starco Norway. With this, Starco Norway became an even stronger player in the Norwegian tire and rim market.